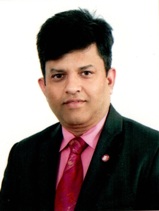 Chers clients,
Bank of Baroda (Maurice), est le témoignage vivant de l'histoire de la réalisation de l'indépendance sociale, politique et économique du pays et est fière d'être associée en tant que partenaire financier fiable avec nos clients, dans cette belle nation insulaire et servant fièrement à Maurice , depuis le 19 octobre 1962.
Au service des clients à travers le monde dans 18 pays, Bank of Baroda, en tant que banque internationale de l'Inde, a pour héritage d'augmenter la valeur de ses parties prenantes grâce à la préoccupation, l'attention et la compétence.
Travaillant sur la même philosophie, à Maurice, nous collaborons au développement de la nation grâce à notre présence à Port Louis, Quatre Bornes, Curepipe, Vacoas, Centre de Flacq, Rose Hill, Rose Belle, Unité Global Business et Mobile Banking Van. L'ingrédient clé d'un voyage aussi long et réussi, de votre banque à l'île Maurice, a été la confiance et la foi que vous avez manifestées envers son personnel, ses produits et ses procédures.
Cette relation solide est la véritable récompense pour votre banque d'être une banque transparente, axée sur la conformité, centrée sur le client et la banque conviviale du pays qui a depuis été institutionnalisée dans un niveau élevé de satisfaction client et une relation durable.
Avec l'évolution du scénario socio-économique et des environnements bancaires, votre banque est en constante amélioration des produits et services à l'île Maurice. Récemment, votre banque a personnalisé ses services et produits bancaires de détail afin de répondre aux besoins bancaires changeants des clients, ce qui lui a permis de s'imprégner avec succès de l'essence de l'environnement bancaire local, même au niveau micro.
En tant que culture d'entreprise au sein de votre banque, nous nous sommes toujours efforcés de transformer nos services bancaires en de merveilleuses expériences client garantissant le « plaisir des clients » grâce à l'innovation continue de nos produits et services financiers. Les précieuses suggestions et commentaires de nos clients, qui sont les véritables propriétaires de la banque, nous donnent des raisons de continuer notre chemin pour faire de la banque une banque heureuse et de votre banque une banque dynamique.
Nous sollicitons votre soutien continu pour emprunter la voie du succès et de la prospérité mutuels et diriger la banque, ensemble, d'une bonne banque à une grande banque à Maurice.
Diwakar P. Singh
Vice Président