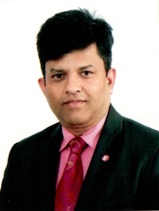 Dear Customers,
Bank of Baroda (Mauritius), is the living testimonial to the history of achievement of social, political and economical independence of the country and is proud to be associated as a reliable financial partner with our customers, in this beautiful island nation and proudly serving in Mauritius, since 19th October 1962.
Serving the people across the globe in 18 countries, Bank of Baroda, as an India's International Bank, has its legacy of augmenting its stakeholders' value through concern, care and competence.
Working on same ethos, in Mauritius we are partnering in the nation's development through our presence in Port Louis, Quatre Bornes, Curepipe, Vacoas, Centre de Flacq, Rose Hill, Rose Belle apart from Global Business Branch and Mobile Banking Van. The key ingredient of such a long and successful journey, of your bank in Mauritius, has been the trust and faith shown by you in its people, products and procedures.
This strong relationship is the true reward for your bank for being a transparent, compliance oriented, customer focused and the customer friendly bank in the country which has since been institutionalized into high level of customer satisfaction and a long lasting relationship.
With the change in socio-economic scenario & banking environments, your bank is in continuous process of improving the products & services in Mauritius. Recently, your bank has customized its retail banking services and products so as to cater to the changing banking needs of the customers which has resulted into successfully imbibing the essence of local banking environment even at the micro level.
As a business culture in your bank it has always been our endeavour to transform our banking services into wonderful customer experiences ensuring "customers delight" through continuous innovation of our financial products and services. The valuable suggestions and feed-backs of our customers, who are the owners of the bank in true sense, give us reasons to continue our journey of making banking a happy-banking and your bank into a happening bank.
We solicit your continuous support in treading the path of mutual success and prosperity and leading the bank, together, from a Good bank to a Great bank in Mauritius.
Diwakar P. Singh
Vice President
(Mauritius Operations)